Andrea Richichi's Freediving Spots
Several of the places mentioned below are featured either in my Travel Pages or in my Photo Galleries.
---
---
I have to clarify that while I venture in this page to give opinions and comparisons for a number of places around the world, it is clear that they are my own opinions only. Ancient Romans used to say that one should not argue over personal tastes, and as a modern Roman I fully agree. Differences in taste are the rule among humans, and even more so among freedivers. What is listed below as a wonderful place might disappoint you, and you may call me spoiled (as many have) for saying that 30m visibility is "ok" and not "wow". So read on if you like, but please do not bear grudge for what is simply a record of my impressions and not a list of absolute truths. Best of all, try to go and see for yourself. As a teenager growing up in Sardinia. I have been almost everywhere on that major island and some of the smaller islands around it. I have dived also in a few other places along Italy's long coastline. The good side of freediving in Italy is that there is almost no fish left, so that you don't get distracted. Distractions are on the beach. On the bad side, brutal thermoclines are common. Also virtually no worries of being attacked by sharks - but if you like living dangerously, no problem: Italy's waters are among the most dangerous in the world thanks to a lot of speedboats and to their distinguished drivers.
As a resident of Germany for too many years, I have also had the dubious pleasure of freediving in deep, cold, dark lakes such as the Starnberger See near Munich. If you cannot afford to travel to such lakes, you can easily replicate them at home: fill your bathtub with ice cubes and pour in a couple of liters of squid ink.
[Top] I have freedived in Dahab, mainly the famous Blue Hole, and I have spent a few of those "full package" weeks both in Sharm and El Quseir. I can't complain too much really about the freediving: water has good visibility and it's not too cold - although on both counts it's not what I'd call the best, and there is a lot of variation with site and season. Wind can be quite an issue, so try to find a protected spot. The best thing is really the depth: just get over those annoying shallow corals, and you'll be wondering where is the bottom. Also, for reasons of proximity to Europe, sunny weather and cheap prices, the Red Sea has become a kind of paradise for freedivers, so that I can go by myself and be virtually sure to meet buddies - most of them way better than me unfortunately.
Like all paradises, there is a hell to it. If you have been there you know what I mean, and if you haven't you will know soon enough once you are there.
[Top] I have done freediving in various forms, from little more than snorkelling to almost serious, in a bunch of places. Generally speaking, they all have very warm waters (no wetsuit really needed unless you are afraid of sunburns, or unless you want to show off your latest model), good marine life, lots of scuba divers around. Water visibility is not amazing, due to rains and rivers, but it can be decent enough. If you are stuck in a place like Phuket (try not to) you may have to be content with sharing 15m depth with a few hundred scuba divers, but as you move to more outlying islands and especially away from the rainy periods, visibility can increase to 30m which is like saying you can always see the bottom - and the number of scuba divers is dramatically reduced as well to only a few tens at any time at the same site.
Unlike a place mentioned above, life in SE Asia can be pretty enjoyable also when you are out of the water, so that in spite of some limitations in water depth, for me this region is still a very enjoyable destination.
Some of the places where I have been freediving:


Malaysia: Tioman, Penang, Perhentian islands, Kota Kinabalu, Sipadan. None of these is particularly remarkable unless you are a turtle lover, but a big big exception is Sipadan island in Borneo. I have been there as a rather naive freediver, I had never seen really good places before, and I will admit that perhaps I was easily impressed... but boy was I impressed! I have never seen so many fish, of so many kinds and sizes, all in the same place. Mind you my visit was in 1997, I imagine the place might have changed. But I'll cherish those memories forever.


Thailand: : Phuket really sucks in my opinion, not only for the rather poor visibility but especially for the millions of scuba divers that are processed daily in a sort of chain production to the Kingfisher wreck and Shark Point. But Phuket is a starting point to go to the Similan Islands, which while being rather busy as well, at least provide some depth (over 40m at places), good visibility (often in the 25m range, though there is no guarantee). The best way to dive there is to spend a few days on a liveaboard, where you can share sleep, food, facilities and dives with the scubies. Better choose a boat with a fixed number of passengers and itinerary, rather than one of those support boats that will host many tens of daytrippers during peak hours. There are dozens of dive sites in the Similans, the best being the most distant ones from Island #5 where all the day trippers gravitate. Some places like Koh Bon have a high chance of seeing big mantas.
Moving further north from Phuket, the Surin Islands are quite nice too, and offer the possibility of some firm land to stroll around. There is a national park where it is possible to camp. Marine life however is better in the Similans, in my opinion. Richelieu Rock is a short distance East from the Surins, quite nice but probably overrated. Although the rock formations and the reef life are quite beautiful, you will have to share them with the scuba divers of several boats at any one time. As a freediver, it is just too easy to lose sight of the fins of your dive master and follow some other group for 40 minutes. Richelieu Rock is said to be a spot for whale sharks.
The islands around Phi Phi offer better freediving than Phuket, but don't hold a candle to the Similans. Speaking of islands around Phuket, one which is easily overlooked is Racha Yai which is mainly marketed as a day-trip destination. As such, it's not a bad item: you will suffer a considerably shorter speedboat transfer than for Phi Phi, and you will have a good share of sandy beaches, adventurous-looking tractors and plenty of buffaloes and monitor lizards for your pictures. However, together with its sister island Racha Noi, Racha Yai is in fact a great place for freediving as well: depths of 30m are easily accessible with a short swim, and a long-tail boat can take you to double as deep for a small fee. Visibilities are surprisingly ok for the Phuket area, and your only enemy will be some currents: check out the tide times for that. In fact, there is a freediving school based inside the resort near Konkare Bay, run by an experienced guy from Europe: he will be able to assist you and make your freediving just about the best you can get in the area.
Moving to the East coast of Thailand, you will have again to stay on an island to get some decent diving. Koh Samui and Koh Phangan offer some, but the best place is really Koh Tao. Unfortunately, this reputation has not been exactly a secret, and in the last ten years this small island has become quite overcrowded both on land and in the sea. Dive shops are just as numerous as the beach bars. You can always find some that will take you out as a freediver on their boat, but there is also a freediving school run by two excellent instructors and competitive freedivers. They have boat trips almost every day, although lately they have become so busy that it might be hard for independent freedivers to go along. The most famous spot (and possibly the only one with some decent depth) is the Chumphon Pinnacle, which however requires to put up with a longish boat transfer. Visibility can be from 10 to 30m depending on the day, and if you swim out from there you might be able to find almost 40m depth, which is about the deepest in that area. Some sharks and the very occasional whale shark are an additional bonus.


Indonesia: : My experiences in Indonesia are quite limited. I have heard high praises of Bali, but unfortunately I have also learned not to trust a scuba diver when it comes to describing how wonderful a dive site is. I have myself freedived only in Gili Trawangan island, the westernmost of the famous group of three small islands off Lombok. I did so extensively for several days, and it was a worthwhile experience although not an exceptional one. In spite of extensive fishing, marine life was quite rich and I had a nice close encounter with some mantas and a few other big fish. Currents were sometimes annoying. Much more annoying however was life on land, with way too many western tourists and a local population totally dependent on them.
I realize only too well that there must be much more than this to freediving in Indonesia, and I would definitely like to visit other places.


Philippines: With literally thousands of islands, there have to be some great freediving places there, but they are not so easy to find. Overfishing (including dynamite) is quite common, and the usual boatloads of scubadivers in the most popular tourist destinations ruin what is left: Puerto Galera is one of the best examples, along with Alona Beach on Panglao. You would not miss much by skipping them, although the reef in the deeper waters close to small Pamilacan Island were quite impressive. Small Cabilao island just a short hop off Bohol was my best experience, with enough marine life and a coral reef relatively pristine. Unfortunately, while the island was still relatively undeveloped at the time of my first visit, when I went again in 2002 a famous hotel chain had started its business there and no doubt things will have changed for worse.
Palawan has a reputation of being a kind of last frontier or Far West for the Philippines. Puerto Princesa is well connected and starting to be overdeveloped, but it has managed to maintain a kind of clean and ordered atmospheres that is a million miles away from Manila. From there you have access to zillions of diving and freediving sites, if you are up to endure a few hours of jeepney. Honda Bay is an easy day trip destination from Puerto Princesa, with some decent snorkeling. Further north, you can stay in Roxas and explore a few of the offshore islands. Among them Cocoloco is equipped with a resort plus diveshop, and you can freedive on your own or piggyback with the scubies. Nothing to take your breath away in the sea, but it makes for a few relaxing days. On the west coast of Palawan, I had the idea that Port Barton could be a nice spot as well, but I have seldom seen such poor visibility in the water and such loud surroundings. I was quite happy to leave.


Singapore, Hong Kong: when it comes to freediving, they are better forgotten.
[Top] Now we are getting serious. I am aware that it is far and expensive to reach, but if you want to see clear deep warm waters for real, you have to freedive in the South Pacific. This is a map of the region with some of the places where I have been able to put my head underwater. You can click here for an enlarged version.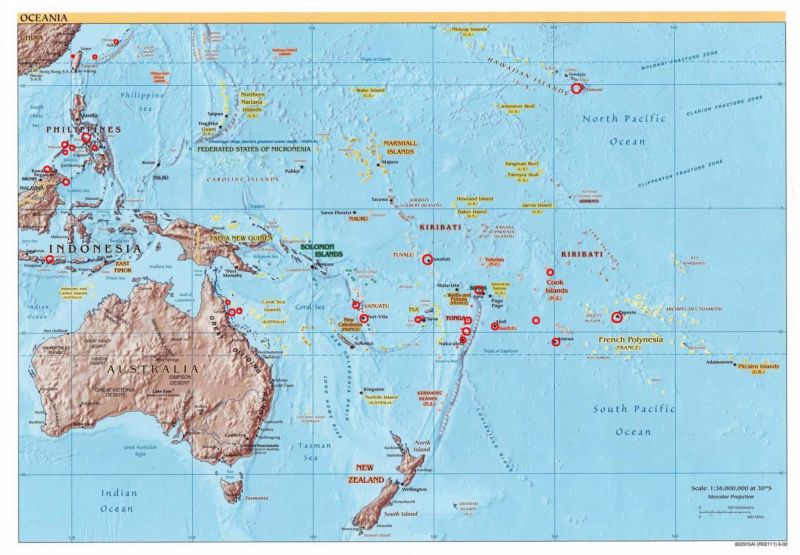 Australia: Let's start with the easy first. The usual run of the Big Barrier Reef is highly overrated, and although I presume that with your own boat and tons of time you should be able to see really amazing places, as a commoner trying to freedive from one of the day-trip boats I was hugely disappointed. There might be fish and some of them may be big, but you'll need X-ray vision to see them through the wall of scubadivers and snorkelers in front if you. I found the show of the Napoleon wrasse being hand fed by the scuba divers absolutely pathetic. I also tried a liveaboard for a few days, but I had a hard time convincing the doctor on board that I was not going to be crushed by pressure at 24m. That was about as deep as I saw. Further north from Cairns, with less humans, things get more exciting such as around Cape Tribulation, but I would say if you are coming all the way from Europe for that, you had better stop in some place closer to home. I will skip the Sydney area and New Zealand altogether, since when I mention South Pacific I have in mind warm waters.


Vanuatu: too many islands to give a fair account of. With time on your hands, and some love of adventure, it should be quite amazing considering also that most of them are only sparsely populated. As in many other tropical places, visibility can be superb or quite bad depending on how close you are to the coast and when was the last torrential rain. In general, in Vanuatu 25 to 30m are a fair chance.
Starting off from the capital Port Vila, Mele island (often known to tourists as Hideaway Island) is one of my favorite places simply because it condenses everything in a nuthsell. Literally, since the island is so tiny that you can walk around it in fifteen minutes. It has a resort, which mercifully includes some hostel-type budget accomodation. A small ferry takes you to the main Efate island in a matter of minutes. During sunny days groups of visitors will arrive for a few hours, but the place will be quiet again from the late afternoon till mid-morning. Although the coral reef has suffered some damage from hurricanes, it is still quite nice. Best of all for freedivers, you have impressive depths within a short swim of the shore on one side of Mele island, while the west and southern sides have an extensive coral reef which makes for nice snorkeling once you are tired of freediving to the bottom (apparently 90m). There is a diveshop, and the friendly owners will take the scubies and the occasional freediver to other reefs in the vicinity. I had one of the most amazing encounters with humpback whales there.
Espiritu Santo combines some famous divesites on the southern part of the island with adventurous and largely virgin territory in the north. At depths of 20m to 60m and with an impressive 200+m total length, the President Coolidge is reputably the largest wreck available to conventional scubadivers, and therefore to freedivers. Its site is just a short drive away from Santo (Luganville), the main city on the island. It is visited by several groups of scubadivers every day, and it is easy to hop along as a freediver. The wreck is absolutely gigantic, very well preserved and with lots of marine life that made it their home. Being just in front of the shore, visibility is not too great: I have seen mostly 20m.
The next famous spot, almost next door, is Million Dollar Point, where the US army dumped a lot of equipment and materials after World War II when it withdrew from the island and negotiations to sell it to the newly formed local government failed. Greenpeace did not exist yet. Freediving or just snorkeling over the site is an unbelievable experience, with the sea floor (sometimes in just 10m of water) literally covered with anything you can imagine to exist in a military base. From fridges to chairs to trucks and whole small boats, from jeeps to coke bottles.
Just across the channel lies the island of Aore. You can easily commute from Santo, or decide to stay at the local resort. Freediving is nothing exceptional there both in terms of depth and visibility, but there are a couple of easy wrecks at hand, in particular an almost complete small plane at about 25m.
Driving north, I reached the large bay where Champagne Beach and other supposedly idyllic spots are located. I found it almost impossible to do any decent freediving aorund there, due to the generally shallow water along the coast. Elephant Island is supposed to have very steep and deep (100+m) walls, but my negotiations to get a paddle boat to reach it failed - the final excuse by the locals was that there were too many sharks.


Fiji. I never stayed in Nadi or Suva more than just a brief overnight stop, so I cannot really say much about freediving there. The so-called Coral Coast on southern Viti Levu seems to be full of hotels with golf courses and dive shops for the wealthy. Further afield, there are so many islands and submerged reefs that probably a lifetime would not be enough to sample them all. I did the minimum by visiting Waya Lai Lai, one of those small islands conveniently placed just a hop away from Nadi, with a business of entertaining travellers with a few days on their hands between international flights. I did not see anything especially impressive there.


Tonga. The kingdom has lots of islands, for a change. But at least they are conveniently positioned in three major groups, so that geographers can have it easier. In the south, Tongatapu island has no special distinctions, except that it is home to the capital Nuku'Alofa and to the international airport. The East and Southern sites are almost constantly battered by winds and waves. Diving and freediving are done generally in the large shallow bay on the north side of Tongatapu. A few smaller islands in the bay have their own resort so it is possible to get away from the incredibly vibrant life of N'Alofa. Among them, Fafa and Atata. You will love the places if you are on your honeymoon, but you will be probably quite disappointed if you had freediving on your mind.
If you have time, try to visit the central group, Ha'apai. First of all, just the view during the flight from N'Alofa to Lifuka are breathtaking. And landing isn't anything less. And second, these islands have the kind of laid back and slow "souther seas" feeling that you will not find elsewhere in Tonga. The main group of islands is arranged in a long string, from Foa in the North to Uoleva in the south, and you can visit all of them on foot (better rent a bycicle though). The walk across to Uoleva can only be done at low tide, so check your tide tables in advance and be careful with the timing. It can be highly dangerous otherwise. If you manage to swim around Uoleva for example, you will be rewarded with an intact coral reef, and an almost empty interior. You can feel like Robinson Crusoe for a day. The waters are clear, warm, rich with fish and turtles and marine birds. There is also a diveshop at the resort on Foa, and they took this lonely freediver along on their boat with a few other lonely scubadivers. Nothing remarkable, except the pleasure of being just a few of us and the big wide clear waters.
The main freediving action goes on in Vava'u the largest island in the northern group. A couple of diveshops in Neiafu will take you along on their boat, to the many divesites spread over tens of smaller islands around. I had a very relaxed, peaceful and rewarding freediving there, enjoying swimthroughs, submerged caves such as Mariner's Cave and Swallows Cave, and coral formations. At places the bottom drop offs very rapidly to 50+m just meters away from the coast. Visibility was overall decent to very good, depending on the timing and amount of the previous rainfall. Further out on the ocean, visibility easily exceeded 40m. This is where you will go if you join one of the whalewatching tours. Freediving with huge humpbacks whales was one of my most memorable experiences. Unfortunately, I had no u/w camera at the time!


Tuvalu. Faraway and isolated, Tuvalu is best known because it is supposedly doomed to be the first country to disappear entirely should the sea levels rise a couple of meters. Most people including me usually see only Funafuti, the main atoll with the international airport and Fongafale the main "city". The atoll is too large to be truly pictoresque. You can walk or ride a bus for a few km on the easternmost, longest uninterrupted section, but other than that you would need a speedboat to see the other motus. Freediving in Fongafale is a mixed bag which is very common in many other south pacific islands: one the interior of the atoll the lagoon is too shallow really to do anything other than snorkelling - though I notice that the warm and quiet waters are perfect for static and I did twice my personal best of the time there! Freediving on the ocean side should be highly rewarding with clear deep waters, but just entering and exiting the reef is quite dangerous with the constant waves, and locals highly discouraged that because of sharks.
Getting to the other islands in Tuvalu is a proposition that requires at least several weeks, since the only means of transport is a ship that completes its round twice a month.


Samoa. Also known as Western Samoa to differentiate them from American Samoa, they are different from most other Pacific archipelagoes in that there are only two major islands, with very few smaller ones scattered around them. Upolu hosts the capital Apia and the international airport at Faleolo, conveniently spaced apart for the joy of local tax drivers. About one hour ferry ride away lies Savai'i, distinctly more rugged and laid back. Both islands are surrounded by extensive coral reefs, which on one hand allow safe and enjoyable swimming and snorkeling, but on the other hand force freedivers looking for more depth to use a boat to get outside.
I did not easily find options to freedive on my own or join scubadivers on Upolu. My only attempt was at Palolo, on the outskirts of Apia, where it is possible to swim over the shallow reef out to a kind of blue hole, only about 20m deep. The corals are largely damaged, but the fish are plentiful and colorful, it makes for an interesting diversion in the otherwise rather boring capital city.
Savai'i is more adventurous, and short of renting your own jeep the only means to get around (literally, as the only paved road is along the coast) is to use the local buses, kind of fun provided you don't have a large luggage with you and you are prepared to squeeze between people of generous proportions. The best area for diving and freediving is around Fagamalo to Manase in the north, where a few diveshops are located. One of them is run by a nice french-south african couple which are very friendly to freedivers and will take you out with the scubies. Typically dives are inside the reef, where depths are about 20m. Visibility incidentally exceeds this so you usually have good views: rock formations and swim throughs are abundant, and divers not very numerous. Diving on the outside of the reef is not so common, mainly because of the extra effort required for the diveshop, but it could be organized in case of significant requests. Unfortunately I did not have this opportunity. I was told, as usual, that out there it is deep and clear and full of sharks.


Niue. Another of my favorites... unfortunately or fortunately, depending on your point of view, it is remote and difficult to reach. Niue is unique in many ways: it is not the usual group of islands, it is not an atoll, it does not have white beaches with coconut trees. In fact, Niue is a giant raised coral island, which gives it relatively high elevation (and incidentally, no risk of disappearing under the ocean in the short term), a lot of caves and rugged terrain, and direct access to big depths. You can swim out from almost anywhere along its coast, and you will soon reach deeper than you want to know. What Niue has in common with many other islands at these latitudes, is that the east coast is constantly battered by winds and waves, so all the diving takes place usually on the western side.
The big smoke is Alofi, and you'll probably want to rent a scooter there to see the rest. This will require obtaining a local driver's licence, which also doubles as a nice and inexpensive souvenir. So equipped, you can basically find your entry points into the ocean at your will. A famous spot is Limu, but be careful with the cold water seeping through from the underground and especially with the strong currents that can easily drag you out into the ocean before you know it. There is (or at least there was) a diveshop south of Alofi run by a friendly aussie couple, that was not too busy. They were glad to take a freediver out on their dinghy, and in fact the man was a good freediver himself. Dolphins are a common sight, and so are sharks. But surely the most amazing thing in the Niue waters is the unbelievable number of sea snakes, which are essentially everywhere. They are sufficiently friendly, though at times a bit too curious towards the bubbleless diver.
Well, there is one other amazing thing actually, the visibility! I had read about it, but seeing is believing: 70m+ visibility is truly an amazing sight. The water in Niue is the clearest I have ever experienced (ok Baikal lake apart), and has this property thanks to the rocky terrain of the island and the absence of rivers.


Cook Islands. No doubt you will start from Rarotonga, where the international airport is located as well as the capital, Avarua. This is another case of a reef almost completely sourrounding the island. The lagoon is picturesque with its turquoise waters, but it's really too shallow for anything else than swimming and snorkeling - and often not even for that. There are a few swimouts around the perimeter, but they are few and sufficiently apart that you should consider renting a scooter. Better ask for local advice, because currents can be quite nasty and you risk being stuck out on the ocean without being able to get back in.
A preferable option is to tag along the scuba divers on their dinghies. Unfortunately, the few diveshops I talked to were overbooked with the usual tourist crowds and looked at me quite unconvinced. Eventually I found one that would take me, when they were not too full. On such occasions, I had quite pleasant experiences. Not too many fish (although I have also seen large tunas and the usual sharks), but very clear and deep waters are the norm.
A short flight to the North, lies the equally touristic destination of Aitutaki. Same story: very nice extended lagoon, with shallow waters and white postcard beaches. Especially pictoresque is the southern side with several motus, among which Maina is a famous stop. As for freediving, you have no other option that getting outside the reef. Again, be very careful if you try to do this on your own, as the outwards current is surprisingly strong and may not let you back. Near Arutunga harbor you can find a diveshop that takes scubies out by boat. At the time of my visit the owner had so few customers that he would not go out everyday, which made for some remarkably boring pauses for me. However, on those occasions when we did get out, I was completely satisfied. Outside the reef the water is very deep, very clear, full of fish including the big guys.
Further north, and quite more difficult to reach, is Manihiki, another atoll. Here the interior lagoon is much larger and definitely deep (80m I was told) although the visibility is quite poor. The atoll is almost complete and conveniently isolates the lagoon from the ocean. The lagoon is home to several pearl farms, and I had the chance to spend a couple of days isolated on one of them during the off season. This was a unique experience, though I am not sure that I would have been able to stand much longer. Freediving inside the lagoon is safe, as the dangerous sharks stay out. There are nevertheless a lot fo sharks to be seen, including some very curious and persistent baby ones. The most interesting sights are perhaps the lines of the oyster farms, and the spectral remains of the strong hurricane Martin that hit the island in 1997, causing several casualties. Broken trees, house appliances and even cars can still be seen at the bottom.
As in many other places in the South Pacific, the ocean side of Manihiki should offer superb opportunities for freediving, but the locals always found some excuse not to take me out. The one time that I tried on my own, I had to back up precipitously due to the amazing numbers of nasty sharks.


Tahiti. I have left for last what actually was my very first experience in the S. Pacific. Back in 1991 I spent a week in Moorea, and although at the timeI did not have the same passion for freediving that I have now, I was nonetheless absolutely impressed by the numbers of reef fish and by the visibility. It's been so long ago however that I would not be very objective if I tried to compare that experience with those in other places where I have been later. Let me just say that, all things considered, French Polynesia is probably equally spectacular as any other freediving spot in the S. Pacific, and much more expensive.
[Top] I group under this heading a few countries where I have freedived that really have not much in common, except than bordering on the same huge ocean.


Hawaii. I haven't really freedived here, but rather I swam out in the sea once on Kona (the big island) in a very superficial manner, if you pardon the pun, sporting just a pair of swimming goggles and going down to maybe 10 or 15m before the pressure almost buried them into my eyes. In spite of this annoying side effect, I thoroughly enjoyed the sight of lots of reef fish, and the clear waters. However, I cannot really say much more than "nice".


Taiwan. Same category as my dip in Kona: I swam a little on the reef at a spot in the Penghu archipelago, just west of Taiwan. Certainly less clear waters and less fish than all the other Pacific destinations that I visited, but still quite enjoyable. So much so, that I actually did my static personal best of the time just floating over the sand and watching the tiny fish that in turn were watching me.


Japan. Apart from short occasional swims on the reef at the remote Iriomote island in the extreme South, I have freedived at some length only around Maeda Misaki (Cape Maeda) on Okinawa. The spot had been recommended to me by a famous top japanese freediver, domo arigatou Ryuzo-san! Indeed, a lovely location with a run-down but very affordable youth hostel overlooking the steep cliffs. Entering the sea requires some caution, partly because of the very shallow water with lots of rocks, corals and sea urchins, but mostly because of the unrelenting flow of huge groups of beginners (both scubies and snorkelers) trying to get into the water all at the same time.
Once you manage to put some safe distance between them and yourself, you can begin to enjoy the reef, the small fish, and little else. Spearfishing is allowed and practiced, so that you don't really see much in the way of large fish, but the general atmosphere is sufficiently relaxed and enjoyable. Water depth at the Cape is 40m, and presumably gets deeper going more offshore. Visibility was never great, maximum about 20m.
Last but not least, I have snorkeled around Mikurajima , where hundreds of dolphins live permanently and are quite easy to approach. An unforgettable experience. Thanks to Kaz!
[Top]






This page was updated on 12-Jul-09.
For comments please contact A. Richichi by removing "nospm_" from the address.